Went Ice racing today, got 2nd in pro 2x4 studded
---
Today the North Iowa Off Road Group (NIORG) had the first of their two ice races on Smith Lake, near Algona IA. A buddy of mine, who's quad is down for a rebuild, offered me his tires to use if I came down to race. I'm not really one to pass up an opportunity like that. Ice tires are expensive as all get out to setup, and mine haven't been used in years, and didn't work THAT good then.
They had a TT course, and a 600' radar run. I entered into the big money Pro class for the TT course, and got 5 tickets for the speed run also.
Went out for practice, and the thing felt great. The track was awesome! There was a split section where you could take one of two lanes which were really evenly matched. This kept slower quads from becoming a road block, although, that wasn't a problem in my class. The track was the biggest TT ice course I have run on. There was a long straightaway which had us entering a big sweeper in 5th gear.
The quad setup was really pretty good. I wanted a little more hook in the rear, so I decided to adjust the pressure in the rear tires. At this time, I realized the rate at which they leaked
The left rear had lost 3 lbs. I went out for the first moto, and I didn't have a great start. Not bad, but not good. As the race went on, I found some faster lines, and got comfortable with the track, so I got faster, but I noticed I wasn't getting much drive out of the corners. I also thought I noticed my clutch slipping, but I couldn't tell if it was losing traction or if the clutch was slipping. I ended up 4th out of 4, but not by a lot. I have a GoPro video of this race, but the 10 lap races make for an enormous file, and I didn't think to set the resolution lower. So we will see about getting it up on youtube. My interwebz isn't that fast.
What I realized when I got back, is that the right rear had thrown 2 screws, and had gone flat which really explained some things. Another buddy of mine who was racing in a different class offered me his rear tires after my tire slime bottle burst while I was trying to get that tire to hold air. I changed tires, and went over and made a pass on the radar run quick to try them out. I launched hard turning me hard to the right. Hard enough that I had to let out of the throttle to get it turned and get back in it. Then there was no question that the clutch was slipping, which in all the tire changing, had escaped my mind to check. I came back down the return road, and the guy told me I ran 64.something mph, and I was the class leader
(I don't think that many guys did the speed run)
So then it came time for my final. I finally adjusted some free play into the clutch. (really kicking myself for forgetting to turn on the GoPro for this)
I had a better start, but was on the outside going into the big sweeper, and I got shut out. I was running 3rd, and we were running tight. It was one hell of a race. I could gain some on one turn, and lose some the next. We were all pretty evenly matched. There was a 310R two smoker, a YFZ with an Athena, me, and a Honda 450R with unknown mods, in that order at this point.
A few laps in, I had a comfortable gap between me and the 450R, and I was working on the YFZ. What ever lane he took in the split, I took the other one, then, finally, it paid off! He got wide and hit a berm, and I came out ahead. Now I've got my sights on the 2 smoker. I rode with everything I had, looking for places to make time. I'd gain some, I'd lose some. By now we're 6 laps in. I had pulled away from the YFZ and the 450R, and the 310 and I were pulling away, but he had a comfortable lead on me. I was still lacking drive coming out of the corners, but I was finding every possible advantage I could get. Dad said I was going into the corners quite a bit harder than the other guys, but I was losing too much traction coming out. By lap 10 I was praying for the 310 to spin out or hit a bale or something, but it didn't happen. They guy was
fast
and
good
. I got 2nd and felt like I left it all on the course. I'm very proud of the quad's performance and my own. Especially since I haven't raced on ice in like 5 years.
I took my winnings ($60) and joined the club to support the cause. I had $20 left, so I gave that to Dustin for letting me use, throw screws out of, and slime in an attempt to seal, his tires.
Here's a few pics that my girlfriend took with my phone while I was racing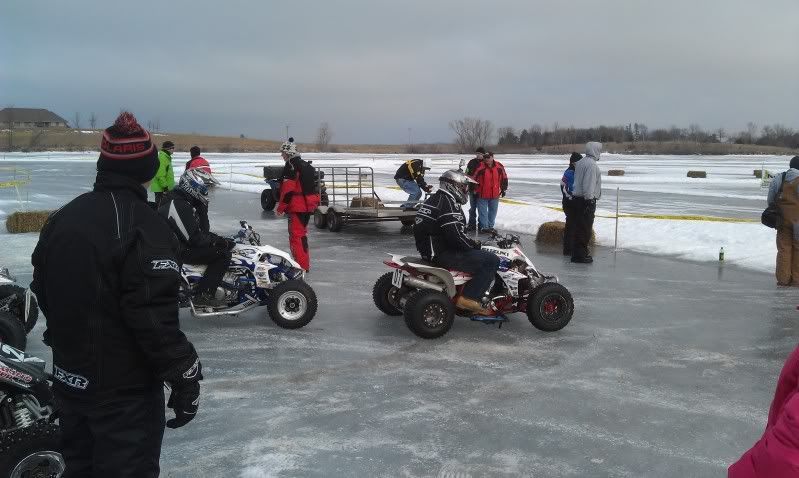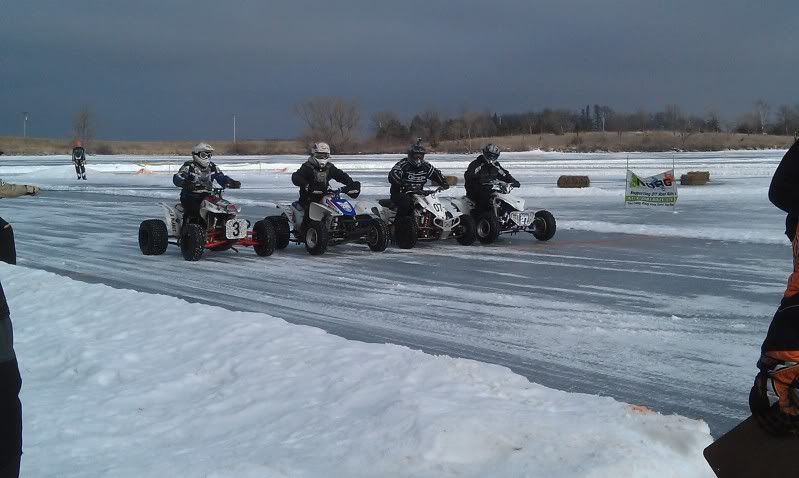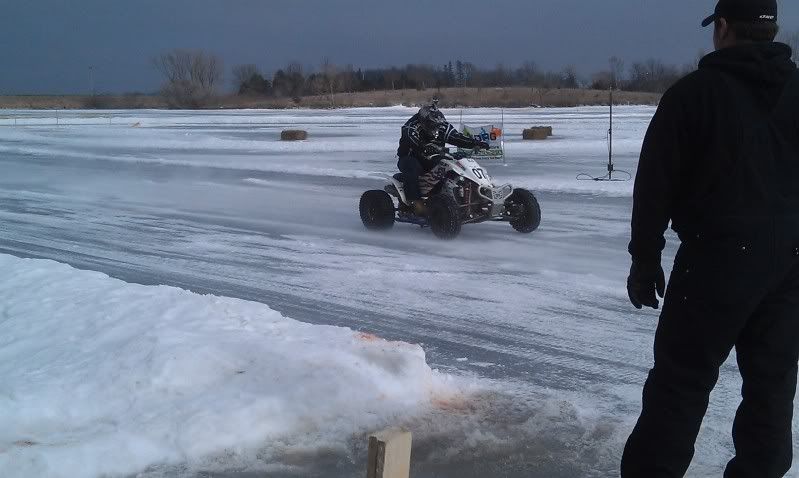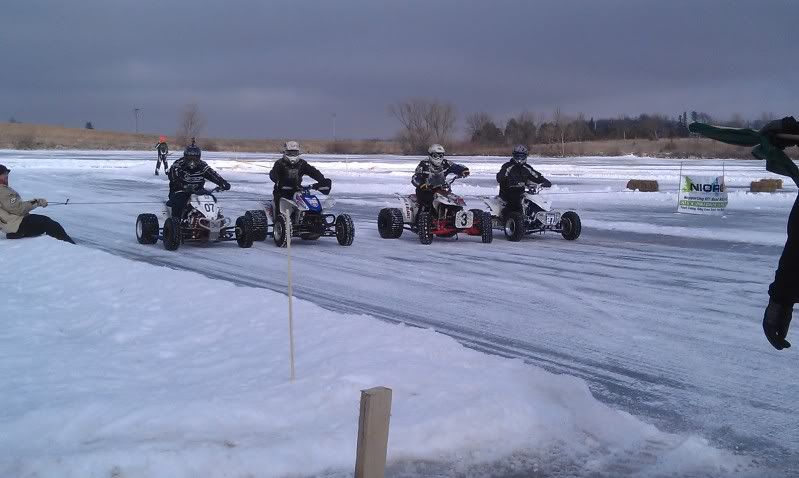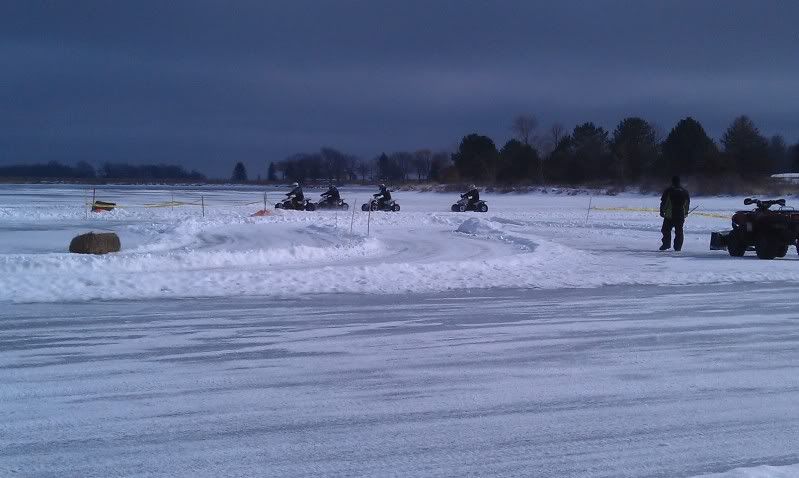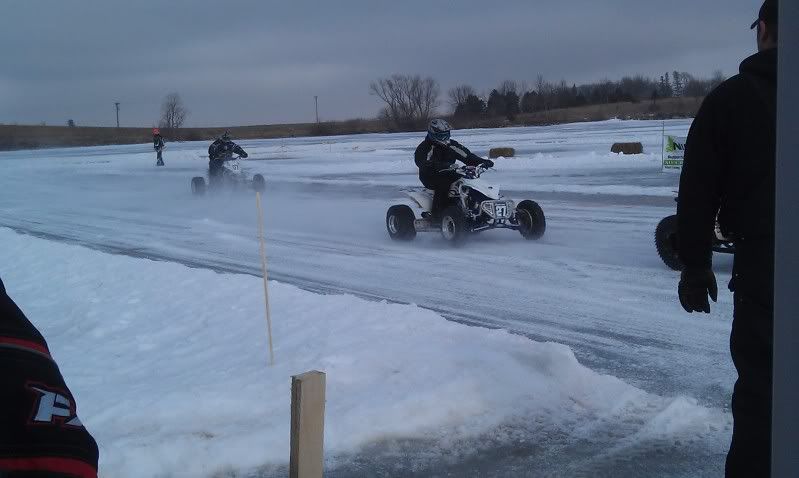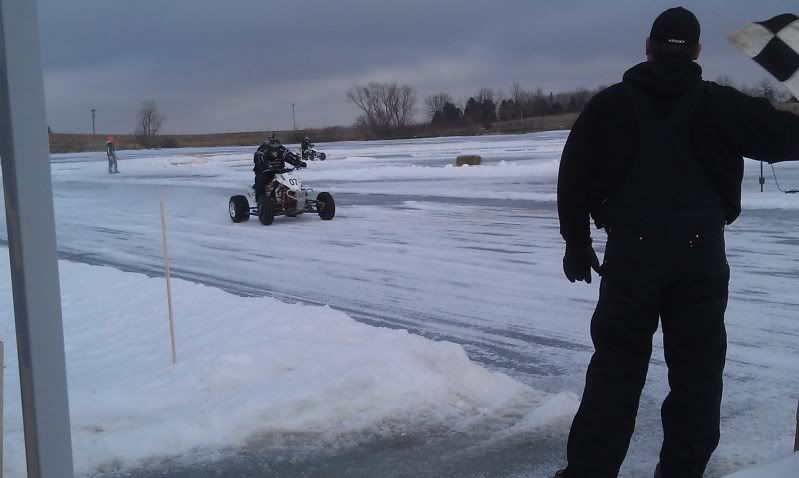 ---
Last edited by CFM; 02-05-2012 at

01:21 AM

.
---
Looked like you did great for being 5 years out of the ice racing scene! Time to get a new clutch and ice tires
Nice pics, looks too cold to race haha! Are you thinking of getting into racing more or just when opportunities come by your way or when you have time?
---
(The Green Monster)
Houser +2 a arms ( tric trac )
ProArmor nerfs,bump,grab bar
Renthal Fat Bars ( magrath )
Houser +2 antivibe steer stem
Fox Podium X front shocks
TCS MX rear shock
ASV unbreakable levers
Full Curtis Sparks exhaust
FCI intake (trx450)
FCR39/Quickshot3
Old style hot cams
ITP GNCC tires +2 GForce hubs
Quadtech carbon fiber hood
Kfx450R Monster graphic kit
453 BBK 13.1 JE piston
KB valves / DRZ springs
Mild ported head by me

" WEAR A DAMN HELMET "
Quote:
Looked like you did great for being 5 years out of the ice racing scene! Time to get a new clutch and ice tires
Nice pics, looks too cold to race haha! Are you thinking of getting into racing more or just when opportunities come by your way or when you have time?
The clutch just needed adjusted. I must have been a little too hard on it in Gennoa at the sand drags. It would make sense, because I wouldn't be a bit surprised if I made over 100 drag launches that weekend. The clutch seemed ok once I gave it some free play. I think I had better change the oil though. I'm sure that clutch got reeeeely hot.
They have an oval race in 2 weeks, and the ol lady will be gone (not that that's a big factor, she's down with racing
) I'm going to look at what I've got for tires, and go race that too. Maybe do a few more speed runs. That's an easy award. I love the events that NIORG has, they are an awesome group of guys!
I have been doing more racing lately. I also post more of it now that I've got a GoPro, and decent camera (ironically my cell camera is really good) and decent means of uploading. Also, It's been a long time since I could do much racing. A few years ago, after the 440 blew up, it took me a long time to get the money for the 490 build (job troubles back then) and once the 490 was done, I only got to race it twice before it scattered. The 470 has been doing well for me.
:::Z400 Rider:::
Join Date: Nov 2006
Posts: 867
WTG CFM!...... you had a far better suspension setup than the rest of them there imo....the lower the center of gravity the better imo....awesome job sir
Quote:
WTG CFM!...... you had a far better suspension setup than the rest of them there imo....the lower the center of gravity the better imo....awesome job sir
Thanks! Truth be told, I think if I had let the front end up a little more to make for a little more weight transfer to the rear, it may have helped a bit. I was struggling for traction coming out of the turns. Once we got going on the straightaways, the horsepower was doing it's job nicely. Even against that 310R 2 stroker. I could go into the corners like a rock star too, but I couldn't give it enough power soon enough when exiting the corners, or it'd break loose.
My suspension setup is fairly unique though. I invented the front setup. Rather than re-locating the lower shock mount, on the fox shocks, the spring pre-load is threaded all the way to the end of the shock. I back the springs down to how ever much tension I want, and I use limiter straps to control the extended length. You can see one of the straps pretty well in this pic.
Then for the rear I used the CRJ link in the middle hole with the spring pre-load on the stock rear shock, as low as it goes. It sat a little tall with out me on it, but it really sags. Nice for transferring weight where you want the traction. In the middle hole, the caliper won't hit the frame, or the pipe, now that I spacered the pipe over after a previous incident. In the Lowest setting, the caliper can most definitely hit the pipe if it's in the way, and even the subframe if the pipe isn't in the way.
You can see the link in this pic.
This setup actually can be jumped unlike most. Not that it's a big deal. It's more of an advantage in that no matter how much of an unexpected bump you hit, you're not wrecking parts.
That's one sexy z. Good job!!!!
---

To view links or images in signatures your post count must be 10 or greater. You currently have 0 posts.


To view links or images in signatures your post count must be 10 or greater. You currently have 0 posts.

05' Z43412.5:1CP,Full Yosh TRC,FCR40,175/45,Rat Stack,Dyna Prgm,AMR Coil,KW Valves,536/540 Web,PWR Radiator,Raptor pc,Gunnar Kill,Elka S3 Front+Rear w/link,Roll+1 Stem,GPR Stabilizer,SL Hyd.Clutch,Tag T2,LSR+3 Arms,Burgard+1 Swinger,Quadtech Shrouds,Supersprox 14/40t,UM Air Box,YFZ Calipers,SS Lines,PA Bumper,Asv's,Roll Nerfs/Heels/Pegs,LSR Axcalibar,Douglas G2 B-locks/Razr's,YFZTail,TT Vapor+Dash,RickyStator,CV4s


To view links or images in signatures your post count must be 10 or greater. You currently have 0 posts.

now that looks like fun. i wish here in NC got to be like that. i think i would ice race all the time lol
---
MINE: 99 323i BMW, black on black and bad ass

04 ltz400 DRZE kit, pro taper bars, Nerf bars, stock can with a straw for a header, ripped up seat, slightly over sized battery, 185 jetting with no lid, removed snorkel, bent up skid plates, but its MINE

WIFES: 06 JEEP grand Cherokee lerado,

03 LTZ400: DRZE kit, fly handle bars full sparks exhaust, 195 main, single base gasket, tusk nerfs, bazooka tires all around

DON'T JUDGE ME, it could be bad for your health

****BOOM****
I also did some Ice Racing this weekend. It was A blast with the motor.The Big Bore/stroker setup with the big cams really paid off!!! there was a small shindig at one of our local lake's,there was 5 or 6 quads and about 30 bikes...one of they guys there was dropping the flag for us,...so 4 of us quads lined up.. there was me on the "KFX",a modded trx450r,a 400ex with a crf450 motor(my machinist),and a blaster with a YZ250 motor,, we set up a fairly long race..25 laps.. to make it fair so anyone could take it.The blaster took the holeshot followed by the trx,me then the ex... it stayed that way for about 3-4 laps then I got passed by the ex..so for another 4-5 I wiggled my way up through the pack once I got me&the "kfx" set into a grove it was over with from there on.. toward the last 5-6 laps or so I was having trouble keep traction comming out of the corners due to the shredded ice..once out of the corners it pulled like none other I ended up almost 2 laps ahead of the other two 450's,The blaster fell out half way through..he was running lean... It was one heck of a race. It took me a good portion of the day to dial my motor&carb in but after that it was "ON"....I had a lot of people complimenting on how fast the "400" was no one could believe it was a 400
.My machinist demanded a drag race to prove himself.. .he got me by about a half a quad length with the crf450"EX", If I had the tire set-up like his I think I could of taken him with no problems at all!...all&all it was a great day out about, I got to take the bragging rights home of smoking 2 modded 450's
and I got my motor dialed in for the most part,its a bit rich but it was running way-way to lean. So I have to order some in-between jets so it's spot on...The only "jet I had was a 5/32 drill bit so I estimate to be around 210-215 +/_ 5...so I want to say thank you to ...
CFM-440
kfxGuy
you guys helped me through alot of technical chit in the build
but it all paid off!!! I think the motor would still be on the bench or blown up...one of the two
Good stuff Will! I'm glad it worked out for you! It's fun having a sleeper quad eh?
Thanks for the thanks also.
Posting Rules

You may not post new threads

You may not post replies

You may not post attachments

You may not edit your posts

---

HTML code is Off

---