Discussion Starter
•
#1
•
Might as well get started on this. Been holding on to it for the past two years. Day job has had me traveling a lot but now I'm all traveled out.
Here's what I'm working with (pics are not at my garage, but at PO's messy garage):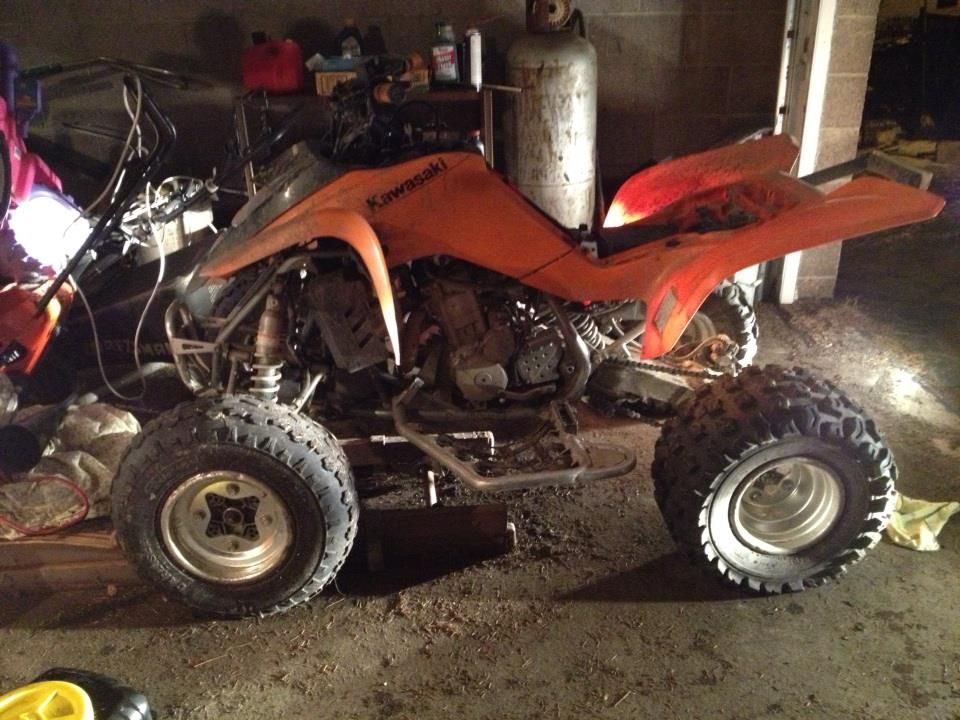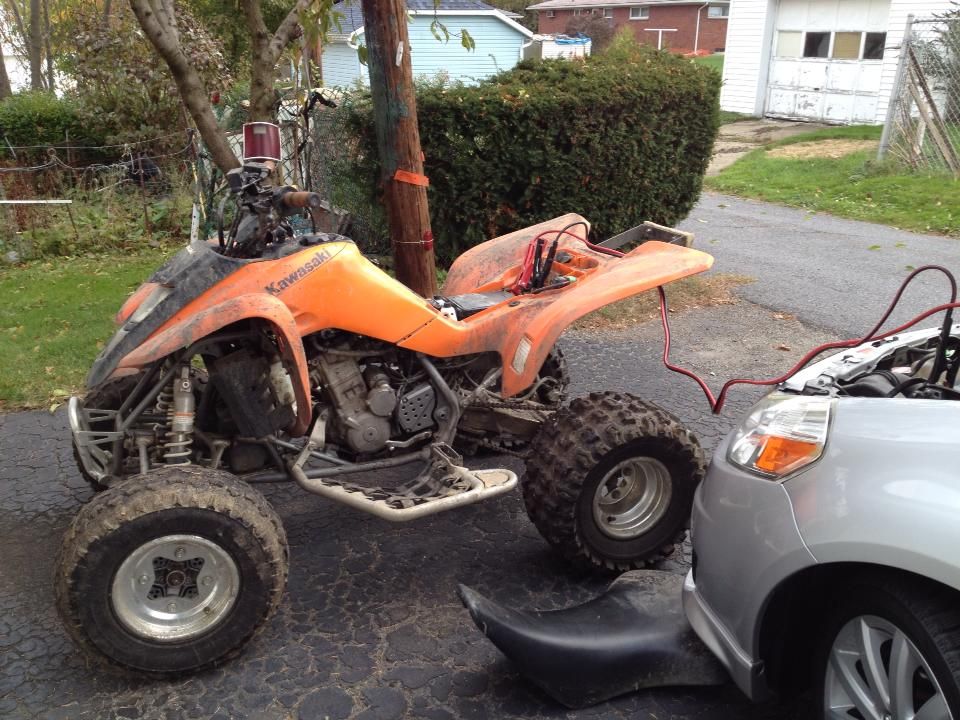 Not a lot of hours, but always put away wet by PO.
Obviously, first order of business is to do all scheduled maintenance that may have been neglected up to now and while I'm in there replacing the cam chain, installing an AC Mod ACCT. Open to any other recommendations while I'm in there, bearing in mind that for the first couple years I want to stay in 400cc classes.
I want to stay 400cc for now as I am a bit of a newb and only have a couple hours riding experience and most are on this quad until it died (Mikuni needs rebuild. . . FCR TIME!!!). I am also an
Old Dawg
(44 going on 45). Bones are a little more brittle but I am open to learning new tricks. No stranger to being out in the woods and racing. Been involved in BMX racing and freestyle since '82, Mountain biking since '88 and still collect and ride vintage BMX.
Next, I need to swap out the monster truck tires in the rear, along with new rims. Also replace bald fronts and rims. Rims are bent to hell. PO's riding friends all had 4x4 atv's and he was trying his best to keep up off trail. As you can see, she needs a new battery. Already replaced the "wheelie bar" with a Tusk grab bar.
I intend to strip her down to bare frame, brace it and fix factory welds, and epoxy enamel it white (have had a lot of luck with appliance paint and found it holds up as well, if not better, than powder). All swingers will be Full Flights in Silver Vein. Yep, white w/Hutch "Futuristic Black" - must be the 80's BMX in me. Add the orange plastics and it's a creamsicle.
Spent the past 2 years doing a HELL of ALOT of searching here and intend to do the obvious mods. Already started to eliminate the blob. Parking brake was deleted by PO and I've relocated the reverse with a KFX 450 thumber mount. Again, open to any recommendations.
Don't expect her to be done overnight and budget is pending sale of my previous project - '63 Ford Fairlane SC 500. Most will go to house and bills, but I plan on a $3000 budget for the KFX.
Thanks and wish me luck!
P.S.
Anybody recognize the maker of those nerfs?