Hey guys,
My name is Jorge, and I live in Portugal.
Today, I come here to present my Z400. I bought the quad in December 2019, all original and already have make some mods.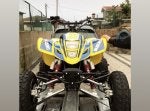 And now, is when all the mods start.
Thats the result of almost two years of mods, and is not finished yet.
The motor is all stock for the moment.
That's the list, of parts and mods I have done it.
• ODI Podium CFT Handlebars;
• ODI Lock On grips;
• Killswitch ProDesign;
• Skid Plate by XRW;
• Side frame protections by CrossPro;
• Nationals A-Arms +3 (They are made in Portugal, and they have 3 points for shocks);
• Goldspeed Rims 9 (rear);
• Goldspeed Rims 10 (Front);
• 4 Maxxis Razr2;
• YFZ450 taillight;
• Start Dominó;
• Clutch Lever ARC DC8 Composite;
• Nerf Bars Racing by Crosspro;
• Rear Handle by XRW;
• TM Designs chain skid;
• Brake cover by Zeta;
• Hell breaded brake lines (red);
• Renthal 14T sprocket;
• JT 38T rear sprocket;
• Bumper "HAT" by CrossPro;
• MotoMasters rear brake rotor;
• Full Yoshimura system with titanium pipes;
I thinks that's all, I can remember for now.
I'm open for all the suggestions for make my quad even better. Feel free, to give me your opinion.
Thanks!